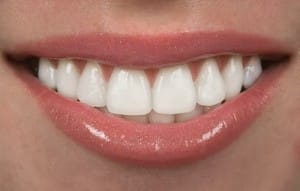 Cosmetic dentistry
offers a variety of procedures to enhance the appearance of a smile. Among these procedures are
teeth whitening treatment
,
dental bonding
, tooth contouring, and several more. But perhaps no procedure offers transformations as extensive and rapid as those produced by porcelain veneers. To learn more about the benefits of
porcelain veneers
, consult the following list provided by your
Grand Prairie dentist
, Dr. Quinn Smith.
Advantages of Porcelain Veneers
1.
They offer fast transformations
. Porcelain veneers can transform a smile in 2-3 dental visits. To accomplish these smile transformations, veneers are custom made for each patient in order to achieve the aesthetic results desired in each case. The veneers themselves are thin shells of porcelain that attach to the front surface of teeth to mask cosmetic blights behind a new and beautiful smile. This process from consultation to fabrication and the final placement of the veneers can be completed in only a couple of dental appointments.
2.
They can mask multiple problems
. Because veneers mask problems rather than attempt to repair them, they are very versatile. For example, porcelain veneers can improve the appearance of stained teeth, gaps, crowded teeth misaligned teeth, pitted teeth, and chipped teeth, making them a useful option for almost every smile transformation.
3.
They are durable
. Porcelain veneers are very strong, which contributes to their appeal. Other restorations, dental bonding for instance, may last only five years. Porcelain veneers, on the other hand, can easily last ten years and beyond, and because the veneers are stain resistant, the lovely, white smile you receive can last for many years to come.
4.
They can be customized
. Smiles can achieve many different effects, and sometimes these effects are more or less desirable for different people. An executive, for example, may want a smile that conveys power, while a model might want a softer smile that produces a more inviting effect. Porcelain veneers can achieve these effects based on the desires of each patient.
Schedule a Visit with Your Grand Prairie Cosmetic Dentist
Would you like to transform your smile fast with
porcelain veneers
? If so, contact our 75052 dental office to schedule an appointment or a consultation with your
Grand Prairie
cosmetic
dentist, Dr. Smith, today by calling 972-262-5111. We welcome patients from Grand Prairie, Arlington, South Dallas, Cedar Hill, Duncanville, and surrounding communities.