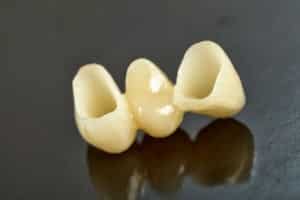 Restorative dentistry has many tools for replacing missing teeth and restoring smiles. Among these tools are full
dentures
, partial dentures,
dental implants
, dental crowns, and even dental bridges. Of these dental devices, dental bridges may be among the least talked about, so to ensure that you are up to speed on the role of a
dental bridge
in restoring a smile, your
Grand Prairie dentist
, Dr. Quinn Smith, is taking a closer look at the function of dental bridges below.
What Is a Dental Bridge?
A dental bridge is exactly what it sounds like: a device that helps to fill in a gap. In restorative dentistry, dental bridges are used to fill in a single gap in a smile created by tooth loss. Standard bridges feature prosthetic teeth that are attached to two stabilizing dental crowns, each of which is fitted over the tooth on either edge of the gap. With the bridge in place, the gap is filled, restoring the smile.
What Benefits Do Dental Bridges Offer Patients
In addition to filling in gaps to improve the appearance of a smile, dental bridges help to protect the remaining teeth in the mouth. When all teeth are present and healthy, they protect one another's flanks, much like a well-trained army. However, when teeth are lost and gaps form, bacteria can attack the exposed sides of teeth more easily, making tooth decay more likely. With a dental bridge in place, however, teeth are once again protected, and they are unable to drift into the open space offered by the gap, preventing alignment problems.
Dental Bridges and Dental Implants
Although standard dental bridges are stabilized by dental crowns, patients can opt for implant-supported bridges. For these restorations, dental crowns are no longer necessary for stability. Instead, dental implants will anchor the bridge into the jawbone to prevent any movement.
Schedule a Visit with Your Grand Prairie Dentist
Has tooth loss created a gap in your smile? Are you in need of a
dental bridge
? If so, contact our 75052 dental office to schedule an appointment or a consultation with your
Grand Prairie
dentist, Dr. Smith, today by calling 972-262-5111. We welcome patients from Grand Prairie, Arlington, South Dallas, Cedar Hill, Duncanville, and surrounding communities.