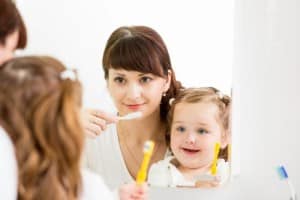 Do you attend the same dental office as your
children
? If you do not, you may be missing a great opportunity for
family dental care
. A
family dentist
, like your
Grand Prairie dentist
, Dr. Quinn Smith, is a dentist who works with patients of any age. Oftentimes, this experience will be beneficial to parents as it will allow them to develop a relationship with the caregiver of their children's teeth more easily than they could if their children were attending a separate pediatric dentist.
When searching for a family dentist, it is important that you ask the right questions. First, ask about the procedures that the dentist can perform in his office. For instance, does he or she work with emergency patients or are there special arrangements made for emergency patients? It is also important to discuss insurance and whether the dental office accepts your insurance provider. In addition, during your consultation, you should get a feel for the dentist's demeanor and consider how he or she will interact with you and your family. Lastly, look for a dentist in a location near your house, as driving long distances can become a hassle and can be a serious hindrance in a dental emergency.
Benefits of Choosing a Family Dentist
There are several benefits of choosing a family dentist. First, with the entire family attending one dental office, you will be able to develop a stronger relationship with the primary caregiver for your family's oral health. A good relationship encourages communication and questions, both of which translate into improved patient comfort and better oral health practices. Another benefit of choosing a family dentist is that it can put children at ease to see their parents receiving dental care from the same dental office that they attend. Lastly, choosing a family dentist can save you the hassle of scheduling multiple appointments at different locations.
Your Grand Prairie Family Dentist
An experienced family dentist, Dr. Smith makes it a priority to establish relationships with his patients. His understanding of the importance of education leads him to keep up to date on the latest treatment techniques and technologies. This combination of education and a patient-first approach makes him a very personable dentist that your whole family can enjoy.
About Dr. Quinn Smith
Dr. Quinn Smith is a respected family dentist in Grand Prairie TX. New patients can schedule an appointment or a consultation by calling 972-262-5111.