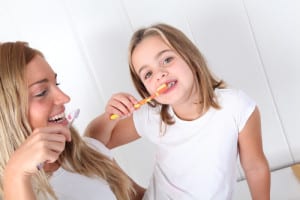 Do you struggle to get your kids to brush and floss their teeth? You are not alone. However, it is important not to give up as establishing good homecare habits is vital to a lifetime of oral health. To develop and reinforce these habits, you may even find it useful to make homecare a priority for the whole family. To learn more about how this strategy can help teach your kids the ins and outs of brushing and flossing, read the following information from your Grand Prairie dentist, Dr. Quinn Smith.

Homecare for the Whole Family
If your children are fighting you when it comes to brushing and flossing, take the opportunity to clean your teeth alongside them. Doing so sets a good example for them and it allows you to monitor their progress and their technique. Try standing behind them as they face the mirror for a good view of their work and correct any problems by demonstrating the proper technique.
One challenge you may run into when teaching your children to brush is keeping them at it for the proper duration of 2-3 minutes. To encourage them to brush for the full time period, there are a few tricks that you can use. First, consider incorporating a timer. This will allow them to see their goal visually and will put a finish line in sight. If the timer doesn't work, you can try playing a favorite song. Most songs last about three minutes, so they make good brushing timers. They may also make brushing more enjoyable for your child, making homecare feel more like fun and less like work.
Schedule a Visit with Your Grand Prairie Family Dentist
Have you and your family members been keeping up with your regular checkups? If not, don't wait any longer to schedule dental appointments for each of you. Contact our 75052 dental office today to speak with your
Grand Prairie
family dentist
, Dr. Smith, by calling 972-262-5111. We welcome patients from Grand Prairie, Arlington, South Dallas, Cedar Hill, Duncanville, and surrounding communities.