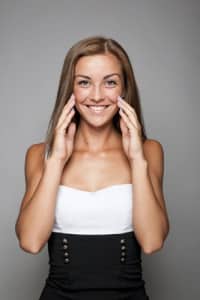 Have you ever noticed that truly stand-out smiles come in only one shade? The color of teeth can have a dramatic impact upon the appearance of a smile. Therefore, if your teeth have dulled over the past few years, why not try
teeth whitening treatment? In addition to improving the appearance of your teeth, teeth whiteningtreatment yields a number of surprising benefits. To learn more about these benefits, read the information below provided by your Grand Prairie dentist, Dr. Quinn Smith.

Benefits of Teeth Whitening Treatment
1.
More self-confidence
. Self-confidence is a huge part of getting the most enjoyment possible out of life. Without confidence, people may shrink from social gatherings and other opportunities. Having stained teeth can lead to a lack of self-confidence. People may try to hide their teeth or avoid smiling altogether. With teeth whitening treatment, however, teeth can achieve a lovely shade of white that inspires smiles and, of course, confidence.
2.
A better image in the workplace
. Did you know that studies have revealed that the appearance of a person's teeth can influence others' opinions about that person? If, for example, two people are compared, one with stained and crooked teeth, the other with straight, white teeth, the natural response amongst the majority of people is to assume that the person with the straight, white teeth is more capable, focused, and organized.
3.
The potential to earn more money
. A recent study found a link between appearance and salary. The study surveyed a group of people to determine the attractiveness of many people. The researchers then compared these results to the salary of each individual and found that those individuals who were deemed more attractive brought in larger salaries than those deemed less attractive.
Schedule a Visit with Your Grand Prairie Cosmetic Dentist
Do you want to brighten your smile and your outlook?
Teeth whitening
treatment may be just the answer. Contact your
Grand Prairie cosmetic dentist
, Dr. Smith, today by calling 972-262-5111. Our 75052 dental office welcomes patients from Grand Prairie, Arlington, South Dallas, Cedar Hill, Duncanville, and surrounding communities.