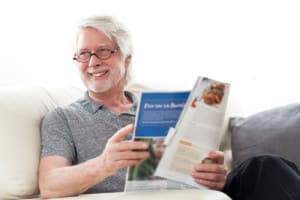 When
dentures
do not fit properly, they have a high potential for irritation and embarrassment. As the dentures slide around the mouth, they create friction which can become quite painful. Their instability can also lead to embarrassing slips, lowering the confidence of denture wearers. If these struggles are familiar to you, implant dentures could be the perfect solution. To learn more about
implant dentures
and their many benefits, read the information below provided by your
Grand Prairie dentist
, Dr. Quinn Smith.
Advantages of Implant Dentures
1.
There is no need for adjustments
. Traditional dentures create friction, causing the ridges on the jaw to wear down over time. As these ridges wear down, the fit becomes less and less secure. It is at this point that many denture wearers will have the fit of their dentures adjusted to improve their stability. Unfortunately, these adjustments provide only a temporary fix. For a more permanent solution, you can have your dentures supported by
dental implants
. These implant dentures are anchored into the jawbone itself, creating unsurpassed stability that will not diminish over time.
2.
The dentures will feel more like your natural teeth
. Natural teeth have their roots in the jawbone. Implant dentures are the same way with the posts of the dental implants embedded in the jaw. Thus, the feel of implant dentures is far more natural than the feel of traditional dentures, which are held in place by the suction they create by covering the palate.
3.
Your sense of taste will return
. Because there is no need for suction to hold implant dentures in place, there is no need for the palate to be covered. Accordingly, you should notice an improvement in your sense of taste.
Schedule a Visit with Your Grand Prairie Dentist
Are you sick of struggling with your sliding dentures?
Implant dentures
may be the solution you need. Contact our 75052 dental office to schedule an appointment or a consultation with your
Grand Prairie
dentist, Dr. Smith, today by calling 972-262-5111. We welcome patients from Grand Prairie, Arlington, South Dallas, Cedar Hill, Duncanville, and surrounding communities.