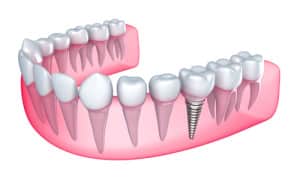 Because they are used to replace
missing teeth
, we often think of dental implants as they relate to teeth. However, dental implants can have a dramatic effect on the jawbone and vice versa. Read below as your
Grand Prairie dentist
, Dr. Quinn Smith, examines the relationship between dental implants and the jawbone.
Tooth Loss and the Jawbone
Did you know that your jawbone relies on your teeth? Bone cells require stimulation in order for bones to maintain a proper density. When density is lost, a bone can weaken and become brittle. Therefore, the role that teeth play in transferring the stimulating forces created by chewing is an important one, and when a tooth falls out, it is cause for concern because the bone cells in the area of the lost tooth are left without stimulation. Following tooth loss, the jawbone may weaken and become unhealthy, unless dental implants step in, that is.
Dental Implants and the Jawbone
When a dental implant is placed, it is surgically inserted into the jawbone. Once in position, the bone will heal around the post of the implant, securing it so that it can anchor a prosthetic tooth or teeth in place. In addition to providing stability, however, the post also acts to transfer the forces of biting and chewing to the bone cells, thereby increasing bone density.
However, the jawbone can affect dental implants just as much as they can affect the jawbone. In order for a dental implant to succeed, there must be enough healthy bone available to support the implant. If there is not sufficient bone, the implant will fail. However, in cases where the bone is not healthy enough to support a dental implant, bone grafting may provide the necessary bone tissue to allow the placement of a dental implant.
Schedule a Visit with Your Grand Prairie Implant Dentist
Are you interested in a dental implant restoration?
Contact
our 75052 dental office today to schedule an appointment or a consultation with your
Grand Prairie implant dentist
, Dr. Smith, by calling 972-262-5111. We welcome patients from Grand Prairie, Arlington, South Dallas, Cedar Hill, Duncanville, and surrounding communities.