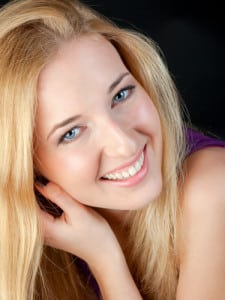 A smile can drastically influence a person's confidence and self-esteem, so if you are unhappy with your smile and constantly find ways to hide your teeth from others, you may be able to transform your life and improve your outlook through cosmetic dentistry. Your
Grand Prairie dentist
, Dr. Quinn Smith, offers a variety of treatments, so to familiarize yourself with your options, try the following quiz and check your answers below.
Take the Quiz
1.
True or False: Some teeth stains are untreatable.
2.
True or False: You can whiten your teeth professionally in the privacy of your own home.
3.
True or False: The ratio of gums to teeth can drastically impact the appearance of a smile.
Check Your Answers
1.
False
. White it is true that
teeth whitening
treatment is ineffective against intrinsic stains, owing to the fact that the whitening agents are unable to reach the stains deep within teeth, there are other solutions to stained teeth when whitening treatment will not work. Both porcelain veneers and dental bonding can cover stains that cannot be removed, creating blemish-free surfaces for a white and brilliant smile.
2.
True
. If you would prefer to whiten your teeth at home rather than in a dental office, your
Grand Prairie cosmetic dentist
, Dr. Smith, offers take-home whitening kits that feature customized trays and a whitening solution. Patients can simply fill the trays with the solution and wear them over their teeth for a specified time each day. This treatment method takes one to two weeks to show its full results.
3.
True
. If too much gum is visible, a smile may appear "gummy." In instances like this,
gum contouring
can step in to remove some excess gum tissue and expose more enamel to create a smile that stands out.
Schedule a Visit with Your Grand Prairie Cosmetic Dentist
Are you ready to begin your smile transformation? Why wait a second longer?
Contact
our 75052 dental office today to schedule an appointment or a consultation with your
Grand Prairie cosmetic dentist
, Dr. Smith, by calling 972-262-5111. We welcome patients from Grand Prairie, Arlington, South Dallas, Cedar Hill, Duncanville, and surrounding communities.