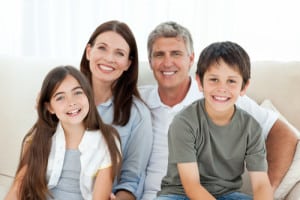 Do you enjoy smiling and laughing with your family? If so, you will surely want to protect the smiles of your loved ones. Here to help you in that endeavor is your
Arlington family dentist
, Dr. Quinn Smith. Read below as he shares three tips that can improve your family's homecare and encourage good oral health.
Tips for Healthier Mouths
1.
Brush as a family
.
Children
can be stubborn when it comes to brushing their teeth. Thus, you may find it useful to brush alongside your little one. By doing so, you can set a good example and establish good oral health habits. In addition, by brushing next to your child, you can help your little one develop proper brushing technique.
2.
Floss gently
. Flossing is a very important part of homecare. It allows us to reach areas of our mouths that a toothbrush cannot. By cleaning these areas, we can remove harmful bacteria and lower the risk of gum disease and tooth decay. When flossing, however, it is important to remember that the goal is to glide the floss gently against the edge of each tooth. By flossing too forcefully, you can cause yourself pain and damage your gums.
3.
Pick a brushing song or set a timer
. If you find it difficult to encourage your child to brush for the entire duration of 2-3 minutes, you may find it useful to pick a favorite song to accompany your brushing time. The song will make it fun for your little one, encouraging him or her to continue brushing. A timer is a good option for older kids who have outgrown a brushing song.
Schedule a Visit with Your Arlington Family Dentist
With the proper homecare habits, you can ensure that your family members maintain healthy mouths. Just don't forget to schedule
dental checkups
every six months. These visits involve professional cleanings and examinations that contribute to continuing oral health. If you or your family members are past due for dental cleanings,
contact
our 75052 dental office today to schedule an appointment with your
Arlington family dentist
, Dr. Smith, by calling 972-262-5111. We welcome patients from Grand Prairie, Arlington, South Dallas, Cedar Hill, Duncanville, and surrounding communities.