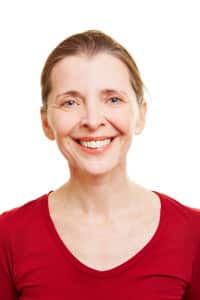 Do you find yourself struggling with your
dentures
on a daily basis? If so,
dental implants
may be able to transform your life. To illustrate just how transformative implant dentures can be, your
Grand Prairie dentist
, Dr. Quinn Smith, has created two portraits to compare living with standard dentures to living with
implant dentures
.
Life with Standard Dentures
A morning with standard dentures may begin with a soft meal. After all, meals that are too tough can cause the dentures to slide all over the place and irritate the mouth. The conversation during breakfast may be halting and difficult. Speaking can be frustrating if the dentures won't stay steady. Slurring and mumbling are likely to be commonplace as you fight to keep the dentures still and avoid an embarrassing slip. In addition to being soft, breakfast may be a bit bland, lacking a lot of taste, and so even before you step foot out of your door, you may find yourself frustrated.
Life with Implant Dentures
The same scenario can be transformed with the simple addition of dental implants. No longer is breakfast limited to soft food, and no longer is the mouth likely to feel irritated from the friction of sliding dentures. Conversation is likely to be better as well as the dental implants will hold the dentures steady and allow the facial muscles to relax, promoting clearer speech.
In addition, implant dentures also encourage an improved sense of taste. They do so because they, unlike standard dentures, which rely on suction to remain stable, can leave the palate uncovered, thereby restoring the sense of taste. Finally, implant dentures eliminate embarrassing slips. The dentures are anchored into the jawbone by titanium implants, so they are unable to slip or slide.
Schedule a Visit with Your Grand Prairie Dentist
If you are tired of struggling with your dentures,
implant dentures
can transform your life.
Contact
our 75052 dental office to schedule an appointment or a consultation with your
Grand Prairie
dentist, Dr. Smith, today by calling 972-262-5111. We welcome patients from Grand Prairie, Arlington, South Dallas, Cedar Hill, Duncanville, and surrounding communities.