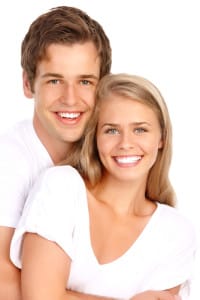 How do you feel about your smile when you look in the mirror? If you are not happy with what you see, have you thought about taking action? There are a variety of cosmetic treatments that can alter the appearance of your teeth to create a smile you can wear with pride. To help you learn about these treatments, your
Grand Prairie dentist
, Dr. Quinn Smith, has created the following quiz. Try the questions and see what you find out about cosmetic dentistry.
Take the Quiz
1.
True or False: A "gummy smile" cannot be altered.
2.
True or False: Porcelain veneers are sometimes the best option for stained teeth.
3.
True or False: The shape of a tooth cannot be altered.
Check Your Answers
1.
False
. A "gummy smile" refers to a smile in which the ratio of teeth to gums leans too far toward the gums, detracting from the smile's cosmetic appeal. If you are unhappy with your smile for this reason, you can opt for
gum contouring
, a procedure which uses a soft-tissue laser to remove excess gum tissue and reveal more of your teeth.
2.
True
. Not all teeth stains are the same, and one type cannot be removed by teeth whitening treatment. This type of stain is called an intrinsic stain because it occurs within the tooth itself, where whitening agents cannot reach it. For this reason, porcelain veneers, which can mask the stains, are a better option for intrinsic stains.
3.
False
. If your teeth are jagged or misshapen, their shapes can be altered by two procedures: contouring and bonding. Contouring removes small amounts of enamel to alter the shape of a tooth, while bonding applies a composite resin to the tooth to add to its shape. Both treatments produce small changes that can improve the appearance of teeth dramatically.
Schedule a Visit with Your Grand Prairie Cosmetic Dentist
If you are unhappy with your smile, don't wait any longer to take action.
Contact
our 75052 dental office to schedule an appointment or a consultation with your
Grand Prairie cosmetic dentist
, Dr. Smith, today by calling 972-262-5111. We welcome patients from Grand Prairie, Arlington, South Dallas, Cedar Hill, Duncanville, and surrounding communities.