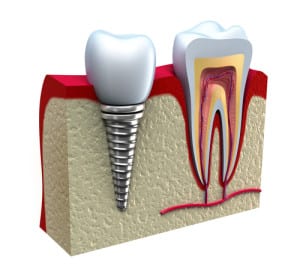 When you lose a tooth, you may begin to feel self-conscious about your appearance. Often, people with missing teeth go to great lengths to hide their smile. Unfortunately,
missing teeth
affect more than just your appearance. In fact, losing just a single tooth may threaten the stability of your smile. At Pecan Tree Dental, we understand the importance of a whole and beautiful smile and offer the perfect solution: dental implants. In today's blog, your
Grand Prairie dentist
, Dr. Quinn Smith, explains how dental implants protect and preserve your smile.
Importance of Replacing Missing Teeth
What happens when you lose a permanent tooth? When an adult loses a tooth, the body responds by suspending the flow of vital nutrients to the surrounding jawbone. Deprived of essential doses of calcium and phosphorus, the bone starts to degrade. Loss of bone density increases the risk of further tooth loss and may alter your facial structure. Soon, patients can develop sunken cheeks, jowls, or a ptotic chin. In addition, the healthy teeth adjacent to the missing tooth may begin to drift towards the empty socket, causing unsightly misalignment.
What are Dental Implants?
Dental implants are composed of biocompatible posts that your Grand Prairie dentist inserts into the jaw. The bone tissue bonds with the posts, anchoring them into place. An abutment is added to the top of the posts. The abutment attaches the custom-made dental crown to the implant post, returning your tooth to full function and appearance. Dental implants can be used to replace a single missing tooth or even secure a full set of dentures.
Advantages of Dental Implants
Dental implants offer a host of benefits. First, the body accepts implants as natural teeth. As a result, the body resumes the flow of nutrients to the jawbone, preventing loss of bone density and preserving facial structure. Implants are also long lasting, on average a dental implant can provide 25 years of quality restoration. Furthermore, implants boast a staggering 95% success rate.
Schedule a Visit with Your Grand Prairie Dentist
Do you have one or more missing teeth? Interested in restoring your smile with innovative
dental implants
? Then talk to your
Grand Prairie dentist
today. To schedule an appointment,
contact
our 75052 dental office today by calling 972-262-5111. We welcome patients from Grand Prairie, Arlington, South Dallas, Cedar Hill, Duncanville, and surrounding communities.