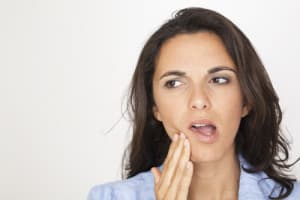 Did you know that tooth enamel is the hardest substance n the human body? Despite this, over time our teeth may become damaged due to injury or advanced tooth decay. When this occurs, your
Grand Prairie dentist
, Dr. Quinn Smith, may recommend a dental filling. A filling helps return your tooth to full function and
appearance
. In today's blog, Dr. Smith answers a few commonly asked questions about dental fillings.
Frequently Asked Questions About Dental Fillings
Question: How do I know if I need a dental filling?
Answer: There are multiple signs to watch for if you think you may be suffering from tooth decay and require a filling. Patients often report tooth sensitivity to hot or cold temperatures, frequent toothaches, swelling around the tooth, or pain when biting down or chewing. If you experience these symptoms, make an appointment with your Grand Prairie cosmetic dentist right away.
Question: What are amalgam fillings?
Answer: These are metal fillings composed of silver and a variety of other metals. Amalgam fillings are cheaper and durable than other alternatives, but contain trace amounts of mercury. Children and pregnant women should avoid receiving amalgam fillings.
Question: Will my fillings look natural?
Answer: Yes. In addition to amalgam fillings, we also offer composite fillings. These fillings contain no metal and blend seamlessly with your smile. As a result, composite fillings look completely natural.
Question: What can I do to prevent tooth decay?
Answer: In order to protect your smile, you should always attend a cleaning and a checkup once every six months. You should also practice good
oral hygiene
, brushing your teeth twice a day and flossing once. These simple steps help cleanse the mouth of the harmful bacteria and stray food particles that may lead to tooth decay.
Schedule a Visit with Your Grand Prairie Cosmetic Dentist
Do suffer from chronic toothaches or tooth sensitivity? If so, you may be experiencing the symptoms of tooth decay. Talk to your
Grand Prairie cosmetic dentist
today to see if our dental
fillings
are the best method of treating your cavity. To schedule an appointment,
contact
our 75052 dental office today by calling 972-262-5111. We welcome patients from Grand Prairie, Arlington, South Dallas, Cedar Hill, Duncanville, and surrounding communities.