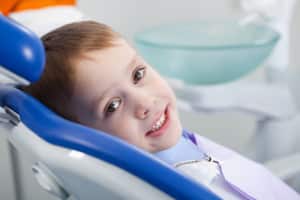 Did you that over 20% of children between the ages of 5 and 11 suffer from untreated cavities? Few things brighten your day like your little ones' smile. In order to keep their smile bright and beautiful, your children require routine dental care. At Pecan Tree Dental, we offer the latest in children's dentistry to help our youngest patients maintain healthy smiles. In today's blog, your
GrandPrairie dentist
, Dr. Quinn Smith, answers a few common questions parents often ask regarding our children's dentistry procedures.
Frequently Asked Questions Regarding Children's Dental Care
Question: Does Pecan Tree Dental offer a child-friendly atmosphere?
Answer: Yes. Dr. Smith and our staff strive to provide an environment in which your child feels relaxed and comfortable. In addition, we keep a box filled with fun toys and trinkets as a reward for our young patients following their appointment.
Question: When should my child see Dr. Smith?
Answer: The first dental visit should follow the eruption of the first baby tooth. This visit mainly lets Dr. Smith evaluate the state of your little one's dental health. Starting around age three, your child should see your Grand Prairie children's dentist once every six months. Routine visits not only allow Dr. Smith to watch for signs of burgeoning dental disorders, but also helps children become accustomed to visits the dentist.
Question: What are fluoride treatments?
Answer: Fluoride strengthens tooth enamel, aiding in the prevention of cavities. For children with teeth especially vulnerable to decay, Dr. Smith may recommend a fluoride treatment.
Question: Can dental sealants help prevent tooth decay?
Answer: Yes. Dental sealants are thin layers of plastic material applied to the molars in the back of your child's mouth. These teeth are often difficult for them to reach when brushing. Sealants keep food from adhering to the tooth's surface or becoming stuck between teeth. Dental sealants help your child avoid tooth decay and the painful complications associated with it, such as toothaches.
Schedule a Visit with Your Grand Prairie Children's Dentist
Did we answer all of your questions? If you have any further questions or concerns about our
children's dental procedures
or would like to schedule a checkup, talk to your
Grand Prairie children's dentist
today. To schedule an appointment,
contact
our 75052 dental office today by calling 972-262-5111. We welcome patients from Grand Prairie, Arlington, South Dallas, Cedar Hill, Duncanville, and surrounding communities.