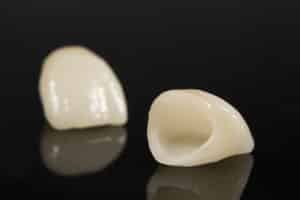 Dental crowns are dental devices, made out of varying materials, that repair and reinforce teeth so that they become functional once again.
Dental crowns
can also improve the cosmetic appearance of damaged teeth. But when does a dental crown become necessary? Your
Grand Prairie dentist
, Dr. Quinn Smith, discusses several situations that necessitate
dental crowns
below.
When It's Time for a Dental Crown
1.
Significant tooth decay
.
Tooth decay
can weaken a tooth, making structural damage in the form of a chip, crack, or break more likely. When a cavity makes a tooth susceptible to damage, the placement of a dental crown can help strengthen the tooth to prevent serious problems.
2.
A broken tooth
. A broken tooth is in peril of developing an infection because bacteria have a far easier time accessing the innermost portion of the tooth called the pulp. A patient with a broken tooth will also experience serious discomfort, robbing the tooth of its function. By fitting the tooth with a dental crown, however, the tooth can be restored both cosmetically and functionally. With the crown in place, bacteria will be barred entrance to the tooth's pulp, and the tooth will be able to bite and chew once again.
3.
Wear by bruxism
. Bruxism (teeth grinding) often occurs during sleep so that people are unaware of the damage they are inflicting on their teeth. Over time, teeth may weaken and can eventually crack, chip, or break. In order to repair this damage, dental crowns must be fitted over top of the teeth so that they can be functional once again. However, once bruxism is discovered, a night guard may be worn to protect teeth from damage during the night.
Dental Crowns from Your Grand Prairie Dentist
If you have a damaged tooth that needs to be repaired,
contact
your Grand Prairie dentist, Dr. Smith, today at 972-262-5111 to schedule an appointment or a consultation. Located in the 75052 area, we welcome patients from Grand Prairie, Arlington, South Dallas, Cedar Hill, Duncanville, and surrounding communities.