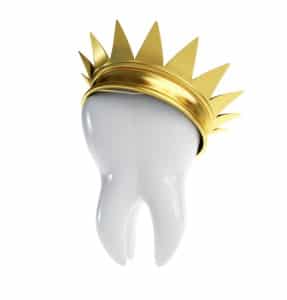 A weakened tooth is susceptible to damage in the forms of cracking, chipping, and breaking. If damage is more severe, as in the case of a broken tooth, a dental crown can reinforce the tooth, restore its function, and improve its aesthetic appeal. But did you know that there are several types of dental crowns? Below, your Grand Prairie dentist, Dr. Quinn Smith, discusses each type.

Metal Crowns
Metal crowns are known for their strength, but not for their looks. They are typically placed in the back of the mouth, where teeth must endure the strongest forces.
Porcelain-Fused-to-Metal (PFM) Crowns
PFM crowns offer a cosmetic improvement to metal crowns. They retain most of the strength of an all-metal crown, but significantly improve aesthetic appeal with their outer coating of porcelain. These crowns are customized for each patient, allowing for a nice cosmetic result. They are, however, typically used in the back of the mouth because of the superior cosmetic results offered by all-porcelain crowns.
All-Porcelain Crowns
All-porcelain crowns are not as strong as metal or PFM crowns. Accordingly, they are most often used in the front of the mouth, where teeth experience less strain. However, to make up for their inferior strength, all-porcelain crowns offer improved cosmetic results. These crowns are customized for each patient to mimic the surrounding teeth, and they reflect light in the same way that natural teeth do, giving them a lifelike appearance, even in direct light.
Zirconia Crowns
Zirconia crowns resemble natural teeth and offer impressive strength. Your Grand Prairiedentist, Dr. Smith, often uses these dental crowns for patients who grind their teeth during the night.
Schedule a Visit with Your Grand Prairie Dentist
Do you grind your teeth during the night? Have you broken a tooth?
Dental crowns
can repair your tooth and restore your smile.
Contact
our 75052 dental office to schedule an appointment or a consultation with your
Grand Prairie
dentist, Dr. Smith, today by calling 972-262-5111. We welcome patients from Grand Prairie, Arlington, South Dallas, Cedar Hill, Duncanville, and surrounding communities.