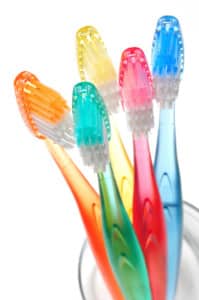 Good homecare provides a solid foundation for a healthy mouth. If you are able to keep bacteria at bay, you will not be bothered by tooth decay or gum disease. Unfortunately, keeping bacteria from attacking your teeth and gums is easier said than done, which is why your
Grand Prairie dentist
, Dr. Quinn Smith is here with four homecare tips that you and your family members can put into practice.
Tips for More Thorough Homecare
1.
Brush all surfaces of your teeth
. When brushing, it is a good idea to divide the work into three parts, one for each surface of your teeth. By dividing the work, you will be sure that you brush the front, back, and top surfaces of each tooth.
2.
Use the proper amount of dental floss
. Using 18 inches of dental floss may seem like too much at first, but it is very important that you continually use clean sections of the floss as you clean between different teeth. If you use the same section on all of your teeth, you will not be cleaning at all. Instead, you will be moving bacteria around your mouth.
3.
Don't brush too hard
. It may be tempting to brush your teeth forcefully to remove plaque from them. However, your
GrandPrairie family dentist
, Dr. Smith, urges you to resist this impulse. Brushing too hard can strip teeth of their enamel and lower their defenses against bacteria, increasing your risk of tooth decay.
4.
Angle the bristles of your toothbrush toward the gum line
. By angling your bristles toward the gum line, you will clean the area near your gums. Bacteria in these areas are often responsible for the development of gum disease, so keeping them clean is a good idea.
Schedule a Visit with Your Grand Prairie Family Dentist
In addition to proper homecare, attending regular dental visits can have a profound impact upon the state of your oral health. If more than six months have passed since your last visit,
contact
your
Grand Prairie family dentist
, Dr. Smith, to schedule an appointment by calling 972-262-5111. Our 75052 dental office welcomes patients from Grand Prairie, Arlington, South Dallas, Cedar Hill, Duncanville, and surrounding communities.