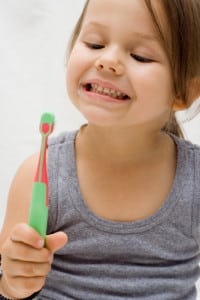 Establishing good oral hygiene habits at a young age sets children up for a lifetime of good oral health. But teaching children to brush their teeth properly can be difficult. They may lose focus or just not want to brush their teeth. However, it's very important not to give up. It may be tempting to think that baby teeth are destined to fall out anyway, that brushing really isn't that important at a young age, but that just isn't true. Children who suffer tooth decay that leads to early tooth loss often have orthodontic problems and can also suffer from infections that affect their health. So don't give up on teaching your little one how to brush. Your Grand Prairie children's dentist, Dr. Quinn Smith, shares some tips for teaching kids how to brush their teeth correctly.

Teaching Kids to Brush Their Teeth
If left to their own devices, children often neglect to brush their teeth thoroughly. Therefore, when you teach children how to brush, it is good practice to stand behind them as they face the mirror so that you have a good view of what they're doing. Teach them to separate their brushing into three phases. Have them start with the outside of their teeth, working the toothbrush in small circles over each tooth. Also be sure that they hold the toothbrush angled 45 degrees downward toward the gums. Next, have them brush the inside portion of each tooth using the same method. Lastly, have them brush the chewing, or top, surface of each tooth.
To discourage them from brushing too hastily, consider brushing your teeth at the same time as your child, or set up a timer for 2-3 minutes. You can also brush for the duration of a television show's commercial break or for the length of a favorite song. Whatever you decide, remain vigilant. Paying close attention to your child's oral care will ensure good oral habits for years to come.
Schedule a Visit with Your Grand Prairie Children's Dentist
Regular, six month dental visits are another important part of your child's oral health. If your child hasn't had a dental appointment in the past six months, it's time for a checkup. Schedule a visit with your Grand Prairie children's dentist, Dr. Smith, today by calling 972-262-5111. Our 75052 dental office welcomes patients from Grand Prairie, Arlington, South Dallas, Cedar Hill, Duncanville, and surrounding communities.