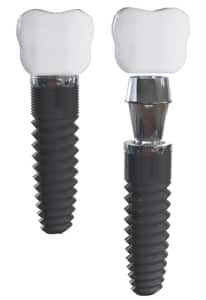 The means of replacing lost teeth have evolved over the years. In the past, prosthetic teeth were made out of all sorts of materials like wood or ivory. These false teeth were very uncomfortable and not very convincing. Today, however, prosthetic teeth are functional and aesthetically appealing. They are also capable of preventing the many complications that stem from lost teeth. Your
Grand Prairiedentist
, Dr. Quinn Smith, explains why
dental implants
are the current pinnacle of tooth replacement.
How Dental Implants Work
There are three parts to a dental implant: the post, the abutment, and the crown. When an implant is placed, the post is first inserted into the jaw and gums, where it fuses with the jawbone in a process called osseointegration. The fusion of post and jawbone ensures that the implant will remain firmly in place. It also helps the dental implant feel more like a natural tooth because it possesses an anchor in the jaw just as a natural tooth does.
However, the benefits of the post do not end there. The presence of the post in the jaw triggers the resumption of a flow of nutrients that ceased when the natural tooth was lost. Without these nutrients, the surrounding teeth and jaw sometimes begin to suffer. Thus when a tooth falls out, a process called the domino effect, during which nearby teeth begin to fall like stacked dominos, begins. A loss of jawbone density may also occur as well as a particularly unsavory condition known as facial collapse. However, the dental implant prevents all of these complications because it restores nutrition to the area.
The next part of the dental implant, the abutment, serves to connect the crown to the post. The crown itself is a convincing and custom-made prosthetic that is both functional and cosmetically pleasing. The crown will match the appearance of surrounding teeth, making it extremely difficult to pick out which is the prosthetic tooth.
Dental Implants in Grand Prairie
Have you lost a tooth? You can replace it with a dental implant. Schedule a visit with your Grand Prairie dentist, Dr. Smith, today by calling 972-262-5111. Our 75052 dental office welcomes patients from Grand Prairie, Arlington, South Dallas, Cedar Hill, Duncanville, and surrounding communities.