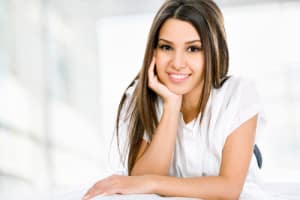 Does your smile light up a room? If the answer is no, you deserve better. Your smile should wow everyone fortunate enough to see it. Having a beautiful smile is a major confidence booster. So if you're unhappy with what you see in the mirror, if your smile is making you grimace, don't settle. Here to help is your GrandPrairie cosmetic dentist, Dr. Quinn Smith. He has tips for achieving the attractive smile you've always wanted.

Getting Your Ideal Smile
A large part of the ideal smile is the color of your teeth. Even the straightest of teeth, if yellow, can leave you frowning. Thus, it is important to be sure that you protect your teeth from yellowing as best you can. A good way to do this is to examine your diet. If you consume large quantities of sugar, you may experience tooth decay. When bacteria consume sugar they produce an acid that strips the enamel from teeth. Without enamel, your teeth will be less resistant to stains. Liquids containing sugar and a dark pigment, like coffee and soda, often contribute to staining.
If your teeth have already yellowed, you do have options to whiten them. Your Grand Prairie cosmetic dentist, Dr. Quinn, offers in-office and at-home whitening treatments proven to whiten your teeth several shades. In-office treatment takes about 45 minutes and shows immediate results. At-home treatment spans 1-2 weeks.
Veneers are another option for stained teeth. However, they can also improve the appearance of cracked, chipped, or crooked teeth. Veneers bond the front surface of teeth, creating a beautiful, white smile. Dr. Quinn offers Lumineers by Cerinate, which unlike traditional veneers, don't require any enamel shaving and are reversible.
Beautiful Smiles in Grand Prairie
The smile of your dreams is completely within your grasp. If you are unhappy with your smile, don't wait another day.
Schedule a visit with your
Grand Prairie cosmetic dentist
, Dr. Smith, today by calling 972-262-5111. Our 75052 dental office welcomes patients from Grand Prairie, Arlington, South Dallas, Cedar Hill, Duncanville, and surrounding communities.