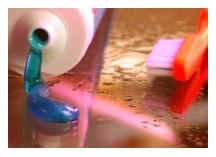 Many years ago scientists started to notice that children who were born and raised in areas with natural fluoride in drinking water had fewer cavities than children in other areas. Fluoride absorbed by your body when teeth were forming (during mother's pregnancy to early childhood) integrates into the structure of enamel and makes it stronger.
After teeth eruption, fluoride found in your toothpaste, mouthwash, or in what your dentist places on your teeth still has a positive effect on your teeth. It strengthens the enamel and reduces the chance of tooth decay.
If you have children and live in an area that has no fluoride in its drinking water, you should consult your dentist and physician about fluoride tablets that are available for children.
If you have any questions about Fluoride treatment and you live in Grand Prairie or surrounding area, give us a call today!
Schedule an Appointment with Your Grand Prairie Dentist
Dr. Quinn Smith is a well-respected and highly experienced general, restorative, and family dentist in Grand Prairie, TX. He takes a patient-first approach that starts from the moment patients enter our Pecan Tree Dental office, and he offers a three-year guarantee on all dental work that he performs. Whether you and your family are new or returning patients, you can schedule a consultation or your next appointment with Dr. Smith by contacting us at (972) 262-5111. We proudly welcome patients from  Grand Prairie, as well as surrounding areas including Arlington, South Dallas, Cedar Hill, and Duncanville.